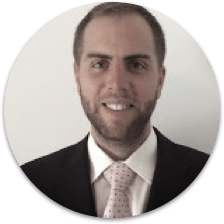 Chiropractor
Dr. Ryan Cevola
I am Ryan Michael Cevola, chiropractor and expert in wellness and nutrition.
I studied 8 years to become a doctor of chiropractor. During the first four years, I studied general sciences to be able to attend chiropractic school I then spent an additional four years studying at the college Life Chiropractic College West, the chiropractic college of San Francisco, California (U.S.A.) where I obtained a Doctorate of Chiropractic degree. Following this achievement I successfully sat the four national board exams required to obtain the licensure to practice chiropractic in the state of California.
This chiropractic license treats Dr. Ryan M. Cevola as a primary health care physician, which means that any problem can come in and one, Dr. Ryan can help that person, or two, he can send them where they need to be for proper treatment. 
As regards my professional career, I have worked at Epic Chiropractic in Sacramento (California), where I was born.
Upon my arrival in Spain, I started working at an office in Madrid and after having visited Andalucia, I decided to open a practice in Loja, Granada.
Apart from working in the Loja practice, I joined the local soccer club as part of their medical staff. I worked with them for three seasons until I became too busy and had to let it go. I then opened another practice in Priego de Córdoba and I currently manage both practices.
I am part of the Spanish Association of Chiropractic (http://quiropractica-aeq.com), recognized by the European Chiropractors' Union (https://www.chiropractic-ecu.org), the body that governs chiropractic in Europe, and recognized by the World Federation of Chiropractic (https://www.wfc.org/website/index.php?lang=es). I also maintain a current license in the state of California.
 
Videos
Videos provide me with the opportunity to communicate in a free and natural way with the public. In this videos (mostly in Spanish), I talk about chiropractic, diet, and general lifestyle recommendations.
If you are not familiar with chiropractic and are interested in learning more check them out.